Studies have not established the effect of corn on breast cancer
Last updated: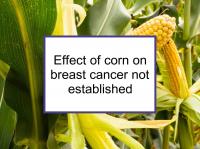 Effect of corn on breast cancer not established
Breast cancer-related effects of eating corn
Corn and corn products
There is little available information concerning the relationship between the consumption of fresh corn, cornmeal, cornstarch or grits and breast cancer risk.
Beneficial sweet corn compounds
Purple and blue corn
Additional comments
Functional fiber products
Fiber is added to some processed foods in order to qualify the foods as "high fiber" or to improve texture. This isolated or functional fiber is extracted or synthesized from plant sources. Examples include soluble corn fiber (from corn), inulin (chicory root or sugar beets), cellulose (wood pulp), maltodextrin (corn, rice, or potato starch) and polydextrose (corn starch). Such fiber-fortified foods typically lack the flavonoids and other biologically active components of the foods from which they are derived and may lack nutritional value, however there is no evidence that functional fiber is harmful.
Fungi and corn products
Various studies of non-U.S. populations have found that consumption of corn contaminated with fusarium fungi accounts for high levels of esophageal cancer in parts of Iran, Brazil, South Africa, and China. Fusarium fungi produce fumonisins that reduce to compounds that synthesize carcinogenic nitrosamines.
Fumonisins have been found to survive most types of baking and frying. Both fumonisin and aflatoxin levels are regulated by the Food and Drug Administration in corn meant for human consumption and in animal feed. However, one study of fresh corn and corn products sold in small family-owned markets in San Diego, California, detected zearalenone (a breast carcinogen which is produced by several species of fusarium fungi) in more than 70% of the samples tested.
Selected breast cancer studies