High dietary fiber is linked to reduced BC risk
Posted: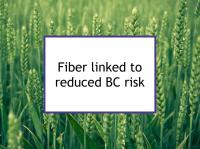 Fiber linked to reduced BC risk
Types of fiber
Latest research links high fiber to lower BC risk
The meta-analysis of previous studies referenced above was designed to investigate the association between dietary fiber intake and breast cancer risk. To conduct the analysis, the authors used data from 10 relevant studies retrieved through the PubMed and Web of Science databases.
Dietary fiber intake was found to be negatively associated with risk of breast cancer in a dose-dependent manner. The authors found a statistically significant linear relation between increasing dietary fiber and lower risk of breast cancer: a 10 g per day increase was associated with a 4.7% reduction in breast cancer risk. Additional analysis also determined that the breast cancer dietary fiber–attributed percentage was 33.33% in Asia, 16.28% in North America and 9.89% in Europe. This result may demonstrate that the higher fiber content typical of Asian diets translates into lower breast cancer risk. The authors conclude that dietary fiber may be associated with lower breast cancer risk, especially if intake is high.
Selected breast cancer studies