Protecting our daughters from breast cancer — Childhood and puberty
Last updated: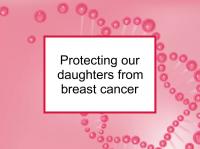 Protecting our daughters from breast cancer
Avoiding early puberty
Childhood milk consumption and breast cancer
Childhood exposure to oncogenic viruses
Certain viruses have been reported to be associated with breast cancer. These include mouse mammary tumor virus (MMTV), bovine leukemia virus (BLV), Epstein-Barr virus, human papilloma virus (HPV), human cytomegalovirus (Human Herpes virus 5), and measles virus. The topic is controversial, in part because of problems with methodology and inconsistent findings. In any case, it makes sense to reduce or avoid exposure to these viruses.
Steps should be taken to avoid transmitting herpes to children during pregnancy or childbirth. Children should be vaccinated against measles as young toddlers and HPV as older children. Children should not be served raw milk and uncooked beef, both of which are possible sources of BLV infection, as noted above. Although it is possible that MMTV is more often transmitted between humans rather than being passed directly from mice, it makes sense to avoid exposing children to mice, including pet mice.
Childhood soy consumption and breast cancer
Childhood weight and breast cancer
Childhood exercise and breast cancer
Omega-3 vs. omega-6 fatty acids and breast cancer
Environmental carcinogen exposure and breast cancer
Childhood radiation exposure and breast cancer
Foods and spices to include during childhood and puberty
Foods and products to limit or avoid during childhood and puberty
Additional comments
Selected breast cancer studies