Radiation exposure from childhood scoliosis increases BC risk
Posted: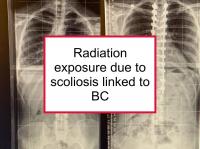 Radiation exposure due to scoliosis linked to BC
While one might expect survivors of childhood cancers to have higher rates of cancer in adulthood, the same does not necessarily hold for those with spinal disorders who received diagnostic x-rays rather than radiation treatment. However, girls treated for scoliosis in childhood and early adolescence have been found to have sharply higher rates of breast cancer in adulthood. Part of the explanation for this may be that x-ray equipment in use decades ago resulted in higher radiation exposure than current equipment. However, a new study has reported that cancer rates are significantly higher among scoliosis patients even though the radiation dose was comparable to that using modern equipment.
Latest research finds scoliosis-associated radiation exposure increases risk
The Danish study referenced at the beginning of this news story was designed to determine the rate of cancer in adolescent scoliosis patients treated 25 years ago. The study included 215 scoliosis patients treated during the period 1983 to 1990 who were requested to return for clinical and radiographic examination. Radiation information was available for 211 of the patients, and medical charts were available for 209. A total of 170 of the patients participated in the follow-up study and completed questionnaires. Cancer diagnoses were determined using medical records and interviews. The total radiation dose received during treatment and follow-up was calculated by a radiation physicist.
Selected breast cancer studies