Impact of endocrine therapy (hormone therapy) on BC prognosis
Last updated: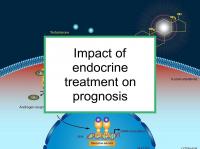 Impact of endocrine treatment on prognosis
Tamoxifen has potential for long-term favorable effects
Comparative effectiveness of endocrine treatments
Based on the most current published data, postmenopausal women taking aromatase inhibitors for five years have somewhat better survival outcomes than women taking tamoxifen for five years. The second most favorable schedule is to take an aromatase inhibitor for two or three years, followed by tamoxifen. However any combination of endocrine treatment is far superior to none at all for estrogen positive breast cancer patients.
Best aromatase inhibitor to use
Arimidex appears to be somewhat more effective than Femara, but Arimidex tends to be less well tolerated. Leaving aside individual factors that can influence the choice of treatment, the implications of these findings is that women undergoing endocrine treatment should start with Arimidex and switch to Femara if the side effects of Arimidex are intolerable, do not improve over time, and cannot be relieved. Tamoxifen is an acceptable option for women who cannot use an aromatase inhibitor.
Aromatase inhibitors may make sense for birth control pill users
Use of bisphosphonates during endocrine treatment
Tamoxifen and aspirin
Factors influencing effectiveness of aromatase inhibitors
Weight gain should be avoided during endocrine treatment
Selected breast cancer studies