Limiting copper can inhibit triple negative breast cancer metastasis
Posted: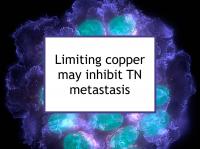 Limiting copper may inhibit TN metastasis
Food sources of copper
The following foods have especially high concentrations of copper:
Unless you are anemic, the U.S. Recommended Dietary Allowance (RDA) for copper of approximately 0.9 mg per day for adults can be used as a guide. It makes sense not to exceed this intake, on average, but not to fall far below it either.
Other sources of copper exposure
Latest research describes effects of reducing copper on TN BC
The study referenced above was designed to investigate the mechanism of action by which copper depletion reduces metastasis of triple negative breast cancer. Copper provides necessary metallic ions for a number enzymes involved in malignant progression. The copper chelator tetrathiomolybdate has been reported to increase survival in high-risk triple negative patients. However, a lack of clear understanding as to how copper depletion reduces metastasis has been an obstacle to advancing to phase II trials of tetrathiomolybdate. The current study was intended to address this shortcoming.
Since, according to the authors, tetrathiomolybdate appears to hinder metastasis more than primary tumor growth, they first identified a subpopulation of highly metastatic SOX2/OCT4+ cells within primary triple negative tumors and focused their attention on these cells. The authors then discovered and described a metabolic defect shared by the cells, as well as a relevant downstream pathway associated with metastatic progression.
The highly metastatic cells were found to incorporate high copper levels and were demonstrated to be very sensitive to tetrathiomolybdate, including loss of invasion. Copper depletion was also demonstrated to disrupt mitochondrial respiration in the cells. Overall, the study findings serve to identify and describe what the authors refer to as a "copper-metabolism-metastasis axis" which should be helpful in developing next-generation therapeutic trials.
Selected breast cancer studies