Reducing copper inhibits tumor growth in mouse models of TN BC
Posted: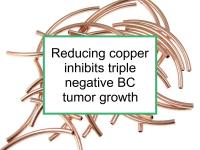 Reducing copper inhibits triple negative BC tumor growth
Copper promotes breast cancer
Latest research describes copper chelator effective in TN disease
The study referenced above describes a new type of copper chelator and evaluates its effectiveness against triple negative breast cancer. Existing copper chelators are "too toxic or ineffective for cancer treatment," according to the authors. This motivated them to develop a copper-depleting nanoparticle that targets the mitochondria (the organelles which generate the bulk of cellular energy through adenosine triphosphate (ATP) production). Depriving mitochondria of copper, thereby reducing ATP production, has been shown to be effective against some cancer types. The authors predicted that the copper-depleting nanoparticles would be less toxic than currently available copper chelators since the nanoparticles target mitochondrial copper levels rather than inducing systemic copper deprivation.
In the study, after developing the copper-depleting nanoparticles, the authors first tested them against triple negative breast cancer cells. The nanoparticles caused an anticipated metabolic switch which reduced ATP production in the mitochondria. The resulting energy deficiency, which was accompanied by compromised mitochondrial membrane potential and increased oxidative stress, resulted in apoptosis. The authors then demonstrated that the copper-depleting nanoparticles had low toxicity in healthy mice. Finally, the authors tested the effectiveness of the nanoparticles in three mouse models of triple negative breast cancer. Administration of the nanoparticles was shown to inhibit tumor growth, as well as to significantly extend survival of the mice. The authors conclude that the demonstrated safety and effectiveness of the newly-developed copper-depleting nanoparticles suggest the potential for development of clinical treatment based on this approach.
Selected breast cancer studies