Fatty fish compound DHA increases Adriamycin efficacy in TN cells
Posted: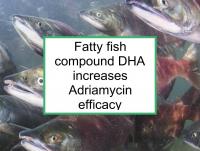 Fatty fish DHA increases Adriamycin efficacy
Fish oil supplements not recommended during chemotherapy
Research finds DHA enhances Adriamycin effectiveness in triple negative cells
The study referenced at the beginning of this news article was designed to investigate the effects of DHA and EPA on three types of breast cancer cells. Triple negative MDA-MB-231, hormone receptor positive MCF-7, and HER2 positive SKBr-3 cells were incubated with EPA or DHA and with or without Adriamycin (doxorubicin) or Herceptin.
Both DHA and EPA were found to inhibit the growth of all three breast cancer cell lines in a dose-dependent manner. On the other hand, neither DHA nor EPA altered the growth or metabolic activity of normal breast cells. Pre-treatment with DHA, but not EPA, improved the efficacy of Adriamycin in triple negative cells, but not the other cell lines. The authors conclude that treatment of triple negative breast cancer cells with DHA increases the anti-cancer effects of Adriamycin.
Selected breast cancer studies