Ellagic acid in pomegranates and berries inhibits ER+/PR+ growth
Posted: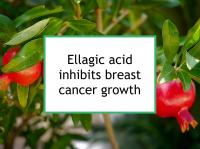 Ellagic acid inhibits breast cancer growth
Sources of ellagic acid
The safety and efficacy of consumption of large amounts of pomegranate juice, pomegranate seed oil and pomegranate extract needs to be confirmed in large-scale clinical trials. Therefore, we conclude that breast cancer patients, survivors and those at high risk can enjoy pomegranates and pomegranate juice in moderation, but should avoid "enhanced" pomegranate juice, pomegranate seed oil and pomegranate extracts.
Latest research finds mechanism of action of ellagic acid
The study referenced at the beginning of this news story was designed to investigate the inhibitory effects of ellagic acid on the growth of hormone receptor positive MCF-7 breast cancer cells. The authors first determined that ellagic acid inhibits MCF-7 proliferation primarily by inducing cell cycle arrest (in the G0/G1 phase). Gene expression profiling of MCF-7 cells line treated with ellagic acid for 6, 12 and 24 hours was then performed. This identified 4,738 genes that exhibited at least a two-fold change after 24 hours of treatment with ellagic acid.
The authors then performed additional analyses which confirmed that the changes in 16 of the genes belonged to the transforming growth factor-β/Smad3 (TGF-β/Smad3) signaling pathway. Generally speaking, the TGF-β/Smad signaling pathway plays a crucial role in the regulation of cell development, growth, and differentiation. The TGF-β/Smad3 pathway appears to be the molecular mechanism by which ellagic acid regulates MCF-7 breast cancer cell cycle arrest.
The authors conclude that the regulation of TGF-β/Smad3 pathway could provide a new approach for the treatment of patients with breast cancer. Further studies are needed to confirm the molecular mechanisms of ellagic acid in the inhibition or prevention of breast cancer growth.
Selected breast cancer studies