Large prospective study does not find link between stress and BC
Posted: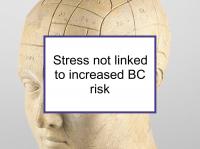 Stress not linked to increased BC risk
Although stress is popularly believed to be associated with breast cancer risk, most studies do not bear this out. Stressful life events are not associated with heightened risk of breast cancer, according to available evidence. Events studied include trauma during childhood and emotionally devastating events during adulthood such as the loss of a child.
Stress and breast cancer survival
Isolation and depression can result in suboptimal treatment
Latest research finds no link between stress and BC risk in high risk women
None of the acute or chronic stressors or psychosocial variables or interactions between them were found to be significantly associated with breast cancer risk in the adjusted (or unadjusted) models. The authors conclude that the study did not find an association between acute and chronic stressors, social support, optimism, anti-emotionality or anger control, and breast cancer risk. The authors further comment that women should focus on proven methods of breast cancer risk reduction.
Selected breast cancer studies