The carotenoid lutein can inhibit hypoxia-driven BC progression
Posted: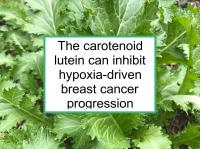 Lutein can inhibit hypoxia-driven progression
Now a new study has reported that lutein inhibits breast cancer progression under hypoxia, a low-oxygen condition in which solid breast tumors can thrive because it makes them highly invasive and treatment resistant.
Best food sources of lutein
Latest research finds lutein inhibits breast cancer progression under hypoxia
Proliferation was found to be inhibited by lutein in a dose-dependent manner. Flow cytometry-based analysis demonstrated that apoptosis (programmed cell death) gradually increased as a result of lutein treatment under hypoxia. Lutein reduced hypoxia-mediated activation of genes favorable to breast cancer. Lutein also greatly reduced the invasion and migration of breast cancer cells under hypoxia. Production of ROS under hypoxia was also reduced by lutein. It was also demonstrated that lutein reduced HES1 expression during hypoxia, while increasing hydrogen peroxide (H2O2) levels.
The authors conclude that lutein might be a new candidate for the chemoprevention of breast cancer. In addition, the study results show that HES1 may be important in mediating the activities of lutein in the suppression of hypoxia-driven ROS-induced breast cancer progression.
Selected breast cancer studies