The raw food diet is not ideal for breast cancer
Last updated: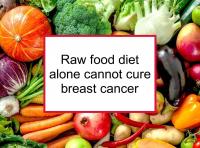 Raw food diet is good but not ideal for BC
For purposes of the present discussion, we mean raw vegan diets (i.e., uncooked plant foods) when referring to raw food diets. While the raw food diet is beneficial overall, we would recommend modifying it to enhance it's effectiveness in reducing breast cancer risk or recurrence.
What is the raw food diet?
More stringent versions of the diet may also include some of the following restrictions:
Raw food diets might result in some deficiencies
Deficiencies in nutrition (listed below) have been reported in some long-term adherents to raw food diets. Those on such diets for an extended period of time should monitor their levels periodically and take corrective action, if necessary.
Raw food diets can also increase dental erosion and reduce fertility in some women.
Foods that affect risk of breast cancer
Raw food diet as cancer cure
As mentioned above, there is no objective peer-reviewed scientific evidence that raw food diets can cure breast cancer. Foods that have been associated with reduced cancer risk for the most part contain compounds that support healthy DNA replication, cell functioning, and immune system operations. Once the body's defenses have been breached so that a cancer is well established, the benefits of healthy eating appear for the most part to be too subtle to make a critical difference in overcoming the substantial defenses mounted by breast tumors.
Selected breast cancer studies