Latinas less likely to develop BC but outcomes are less favorable
Last updated: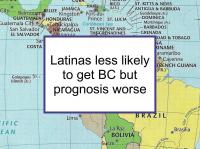 Latinas less likely to get breast cancer
Definition of Latina
For purposes of this website, by Latinas we mean women originating from Mexico, Central or South America, or the Caribbean who have at least some Native American, indigenous Mesoamerican, Native South American, or Native Caribbean ancestry. They may or may not retain some or all of the language, culture and traditional eating customs of their regions of origin. We will be focusing on the effects of intrinsic genetic factors and diet in this webpage, rather than cultural factors and socioeconomic status. Recognizing that some Latinas identify as white, for purposes of this website, by white women we mean white women whose ancestors originated emigrated entirely or for the most part from Western Europe.
Differences in breast cancer between Latina and white women
There are genetic differences between Latinas and white women that translate into differences in breast cancer risk and survival. Generally speaking, the higher the proportion of Native American or other indigenous American ancestry, the lower the breast cancer risk. One study of women living in Mexico reported that those with 76% to 100% European ancestry had 2.4 times the risk of breast cancer as women with 0% to 25% European ancestry.
While Latinas are less likely to develop breast cancer than white women, they tend to do so at a younger age. One Mexican study of almost 700 breast cancer cases reported that 19% of the patients were 40 or younger at diagnosis compared to approximately 7% of U.S. breast cancer cases. This is one reason why screening mammograms should start at age 40 among Latinas, rather than at age 50 as has been suggested for relatively low-risk women.
Acculturation increases breast cancer risk
Hormone replacement therapy (HRT)
Alcohol consumption
High blood pressure
Exposure to agricultural pesticides and chemicals
While not all crops are grown with the assistance of carcinogens, some crops are associated with particularly high rates of breast cancer among adult workers. For example, one study found that California mushroom workers had approximately six times the expected incidence of breast cancer. It is likely that exposure is higher when workers operate in enclosed places such as green houses and indoor mushroom farms.
Diet and breast cancer risk among Latinas
Recommended foods
Foods to limit or avoid
One Brazilian study reported that intakes of apples, watermelon and tomatoes were associated with reduced breast cancer risk. The same study reported that the consumption of lard and fatty red meat were linked to higher breast cancer risk. A Mexican study found that a high percentage of calories from carbohydrates, especially sugars, was associated with increased breast cancer risk.
Latinas can take steps to improve their breast cancer outcomes
As noted above, Latinas are less likely to survive breast cancer than non-Hispanic white patients. Part of the explanation is that Latinas tend to have more aggressive types of breast cancer. However, there is some evidence that Latinas have better outcomes than whites when disease subtype is taken into account if appropriately treated in a timely manner. Socioeconomic status and Spanish-only speaking can be important barriers to receiving optimal breast cancer care, even taking account insurance inequalities. Latinas can take the following concrete steps to improve their outcomes, in addition to adopting a customized breast cancer diet:
Joining a breast cancer support group could also be helpful. This doesn't have to be at your breast cancer center. Pick one closer to home if it's more convenient and would have more Latina participants. A well-run support group can be very helpful not only as a safe place to express your feelings and get emotional support, but also as a source of information.
Selected breast cancer studies