DIM from broccoli prevents metastasis in mice
Posted: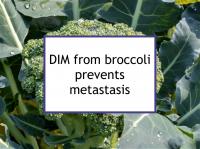 DIM from broccoli prevents metastasis
DIM consumption was found to cause a marked reduction in the number of lung metastasis nodules. This reduction was accompanied by reduced levels of compounds associated with metastasis. The authors conclude that DIM has potential as an antimetastatic agent for the treatment of breast cancer.
Findings confirm previous studies concerning DIM
Foods that contain I3C
Note that cruciferous vegetables contain enzymes that can interfere with the formation of thyroid hormone.
Selected breast cancer studies