Italian women with high vegetable consumption have lower BC risk
Posted: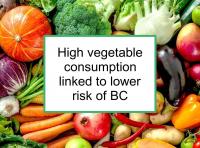 High vegetable consumption linked to lower risk of BC
The study included more than 31,000 women aged 36 to 64 years in the Italian part of the European Prospective Investigation into Cancer and Nutrition study for whom data concerning dietary and lifestyle information and body measurements were available. The women were recruited between 1993 and 1998 and followed for a median of 11.25 years. A total of 1,072 invasive and in situ incident breast cancers were diagnosed during follow up.
Consuming a variety of vegetables is best
Selected breast cancer studies