Morphine during surgery might increase risk of metastasis
Last updated: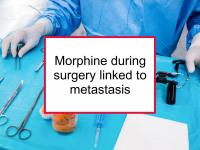 Surgery morphine linked to metastasis
Surgery itself can stimulate metastasis
Surgery has been shown to induce modifications in the expression of genes implicated in metastasis, leading to changes that accelerate metastatic tumor growth in remaining tumor cells. In one study, mice prone to lung metastases were implanted with mammary tumors that were allowed to grow for 21 days. The mice were then divided into two groups, one of which had their mammary tumors completely surgically removed. At the end of the study, the lung metastases of the two groups of mice were compared. Surgical tumor removal was associated with increased number and size of metastases. Further analysis demonstrated that primary tumor removal led to increased expression of genes involved in tumor cell adhesion, invasion, and angiogenesis. Another mouse study reported that surgical removal of mammary tumors generated patterns of metastatic dissemination significantly different from those observed in tumors not treated by surgery. Note that use of regional (e.g., spinal anesthesia) instead of general anesthesia has been reported to reduce the surgical stress response.
Evidence for morphine's influence on cancer relapse
Morphine appears to amplify the deleterious effects of surgery. Morphine has been found to increase proliferation, inhibit the immune response, and promote angiogenesis of breast cancer cells in the laboratory. Comparisons of breast cancer surgery performed with or without morphine or other opiates have reported lower rates of breast cancer recurrence for surgery without opiates, although not studies are in agreement:
Use common NSAIDs cautiously
Bottom line
There is enough evidence concerning morphine to warrant considering restricting its use. Many breast surgeries could probably be performed without any use of opiates. Breast cancer patients can request that alternate methods of pain control be used during and after surgery, and themselves limit use of morphine and other opiates such as Vicodin, Oxycodone, and Percocet after surgery. Breast cancer patients might benefit from discussing this topic with their surgeons.
Selected breast cancer studies