Zinc plus resveratrol promotes mammary tumor development in rats
Posted: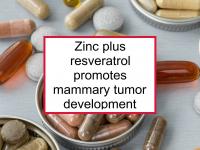 Zinc plus resveratrol promotes tumors
Latest research examined resveratrol and genistein plus zinc
To conduct the study, female rats were fed a standard diet and administered a carcinogen (DMBA) which reliably produces mammary tumors. The rats were divided into groups and treated with (1) zinc, (2) zinc plus resveratrol, or (3) zinc plus genistein from 40 days to 20 weeks of age. For comparison purposes, a control group of rats did not receive any of the supplements. DMBA-induced mammary tumor development was not found to be inhibited by any of the treatments. In fact, tumors developed at an accelerated rate in the zinc plus resveratrol group, contrary to expectations.
Copper and iron were found to accumulate in the rat mammary tumors, regardless of supplement regimen. Elevated copper and iron levels have also been observed in human breast tumors. A considerable reduction in the magnesium content of the rat mammary tumors compared to normal mammary tissue was also observed. The combination of zinc plus resveratrol resulted in the largest differences in copper, iron and magnesium between tumor and normal tissue.
The authors conclude that supplementation with zinc plus resveratrol in a rat model of breast cancer considerably promotes the rate of carcinogenesis and increases the number of DMBA-induced mammary tumors.
Selected breast cancer studies