Ki67 proliferation index predicts progression of LCIS
Posted: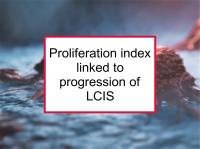 Proliferation linked to LCIS progression
Study tested prognostic indicators used in invasive breast cancer
Most of the LCIS was ER+
The authors divided the lesions into the following groups: (1) ER+ and Ki67 ≤ 10%; (2) ER+ and Ki67 > 10%; (3) ER-; and (4) ER-/PR- and EGFR+. All but two of the lesions were classical LCIS. Among the 44 evaluable cases, 34 were ER+ or PR+ with Ki67 ≤ 10%, 9 were ER+ positive with Ki67 > 10%, and one was ER-/PR- and EGFR+. E-cadherin turned out not to be a useful prognostic indicator since all of the LCIS lesions were either E-cadherin negative (71%) or E-cadherin weak and incomplete (29%).
Ki67 predicted progression to invasive breast cancer
Selected breast cancer studies