Factors influencing Taxol (paclitaxel) effectiveness
Last updated: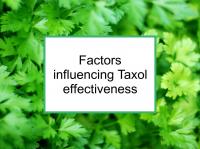 Factors influencing Taxol effectiveness
Many breast cancer patients who undergo chemotherapy are given Taxol (paclitaxel) as part of their regimen. Chemotherapy is designed to destroy any remaining cancer cells in the breast and the remainder of the body. Chemotherapy is effective in improving breast cancer survivorship: numerous studies have found that it protects against breast cancer recurrence and death.
Avoid most supplements during chemotherapy
Pain killers and Taxol
Light at night and Taxol
Recent evidence suggests that sleeping while exposed to light, even dim light, could reduce the effectiveness of treatment with Taxol and promote resistance to chemotherapy.
Exercise during chemotherapy
Selected breast cancer studies