Resveratrol sensitizes ER+/PR+ cells to radiation treatment
Posted: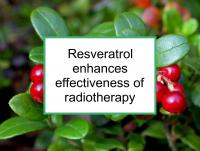 Resveratrol enhances effectiveness of radiotherapy
Latest research finds resveratrol acts as radiosensitizer
The study referenced above was designed to investigate the potential radiosensitizing effects of resveratrol on ER+/PR+ MCF-7 breast cancer cells. Radioresistance and the side effects of radiotherapy both limit the effectiveness of this treatment. Therefore, identifying compounds that can enhance the cytotoxic effects of radiation in tumor cells while not harming normal cells is important.
Selected breast cancer studies