Resveratrol enhances the treatment effects of tamoxifen
Posted: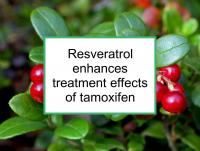 Resveratrol enhances tamoxifen treatment
Resveratrol-rich foods are recommended during breast cancer treatment
Best food sources of resveratrol
Resveratrol supplements are not recommended
Latest research finds resveratrol can help overcome tamoxifen resistance
The study referenced at the beginning of this news story was designed to investigate the effects of resveratrol in hormone receptor positive breast cancer cells. A significant fraction of ER+ tumors have minimal or no initial response to tamoxifen or eventually develop resistance to it. The authors first established a line of tamoxifen-resistant MCF-7/TR breast cancer cells. They then showed that resveratrol was capable of acting synergistically with tamoxifen, triggering programmed cell death (apoptosis) in the tamoxifen-resistant cells. The authors also established how the chemosensitizing effects of resveratrol were conferred. The authors conclude that resveratrol is a potential agent to overcome acquired tamoxifen resistance.
Selected breast cancer studies