Hot pepper compound capsaicin reduces tumor development
Posted: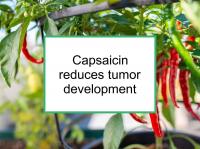 Capsaicin reduces tumor development
Sources of capsaicin
Capsaicin should not be taken as a supplement. Frequent consumption of hot peppers has been found to be associated with esophageal, gall bladder and gastric (stomach and intestinal) cancers. In countries such as Mexico with relatively high hot pepper consumption, low intake has been shown to protect against stomach cancer whereas high intake increases the risk. While most U.S. residents are not likely to consume extremely high levels of capsaicin in food, taking supplements could put them at risk.
Latest research finds capsaicin counteracts the effects of carcinogen
Administering capsaicin to NMU-treated rats appeared to correct the levels of sexual hormones, antioxidants and other beneficial compounds altered by NMU. Capsaicin also improved the histopathological changes induced by NMU in the mammary tissues of the rats. In some cases, most of the layers of carcinoma cells were found to have peeled off, leaving one or two epithelial layers.
The authors conclude that capsaicin can perform an important defensive role during breast cancer development, acting as a chemosuppressive agent against NMU's carcinogenic effects.
Selected breast cancer studies