Prospective studies link coffee to reduced risk of postmenopausal BC
Posted: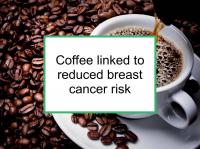 Coffee linked to reduced breast cancer risk
Coffee should be avoided or limited in some circumstances
Latest research finds reduced risk among postmenopausal coffee drinkers
Consistent with previous findings, no clear link was found between coffee consumption and breast cancer risk in the overall combined study population. However, when the analysis was restricted to postmenopausal women, an inverse relationship was found between coffee consumption and risk. Consumption of four cups of coffee per day was found to be associated with 10% lower risk of breast cancer in postmenopausal women. The results held when potential confounding factors were examined. The authors conclude that coffee consumption is associated with reduced risk of postmenopausal breast cancer.
Selected breast cancer studies