High corn oil diet promotes mammary tumor development in animal model
Posted: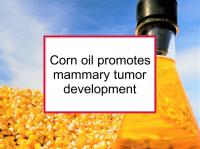 Corn oil promotes tumor development
Linoleic acid and arachidonic acid promote breast cancer development
Latest research finds corn oil increases proliferation and reduces apoptosis
The study referenced at the beginning of this news story was designed to compare the effects of high-fat corn oil and olive oil diets on mammary gland tumor development in an animal model of breast cancer. To conduct the study, the authors fed female Sprague-Dawley rats either corn oil or extra-virgin olive oil diets either from weaning or as of when they were administered a carcinogen known to induce mammary gland tumors. Mammary gland gene expression profiles and other molecular analyses were performed. Carcinogenesis parameters such as tumor size and number were assessed at days 105 and 246.
The corn oil diet was found to increase the body weight and mass of animals fed from weaning. On the other hand, the extra-virgin olive oil diet did not change these parameters. In fact, the olive oil diet increased the hepatic expression of a protein (UCP2), suggesting a decline in intake/expenditure balance. The gene expression profiles of the rat mammary glands were modified differently by the two diets after only a short dietary intervention. The corn oil diet was found to down-regulate the expression of genes related to the immune system and apoptosis, whereas the extra-virgin olive oil diet altered the expression of metabolism genes.
Additional analysis found that the high corn oil diet increased mammary gland proliferation and reduced apoptosis, which appears to be one way that the diet stimulated carcinogenesis. The authors conclude that a high corn oil diet strongly stimulates mammary tumor development, as evidenced by relevant modifications in gene expression profile and proliferation/apoptosis balance of the mammary gland.
Selected breast cancer studies