Delphinidin inhibits angiogenesis and migration of TN cells
Posted: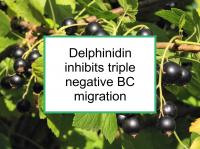 Delphinidin inhibits triple negative BC migration
All blue/red/purple dark-fleshed fruits have been found to be associated with reduced breast cancer risk and recurrence. It is likely that the micronutrients in such fruits act synergistically to prevent breast cancer growth and proliferation. However, they also act individually against breast cancer cells when tested in the laboratory.
Food sources of delphinidin
Latest research finds delphinidin preferentially harms triple negative cells
Actins are proteins that form microfilaments in cells. The anthocyanins studied were found to promote changes in actin re/disassembly resulting in the formation of protrusions/stress fibers, demonstrating an ability to disrupt actin cytoskeleton dynamics and inhibit angiogenesis. This occurred, at least in part, by VEGFR-2 downregulation, with delphinidin having the greatest effect. Comparing the effects in triple negative breast cancer cells to those in normal breast cells demonstrated that the anthocyanins acted selectivity: they induced cytotoxicity on MDA-MB-231 cells while having only a slight effect on healthy cells. The authors conclude that delphinidin demonstrates a promising profile to achieve biologically desired effects in triple negative breast cancer.
Selected breast cancer studies