Resveratrol increases effectiveness of Adriamycin chemotherapy
Posted: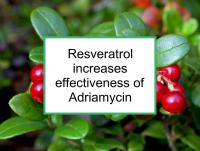 Resveratrol increases effectiveness of Adriamycin
Resveratrol supplements and red wine are not good choices
Latest research finds resveratrol can restore chemosensitivity
The study referenced above was designed to investigate the role of resveratrol in chemosensitivity to Adriamycin chemotherapy. Chemotherapy tolerance, resulting in resistance to treatment, can severely limit the anti-cancer effects of treatment. Resveratrol has been shown to inhibit cancer progression in part by regulating microRNAs. MicroRNAs are RNA fragments that prevent the production of specific proteins by interfering with gene expression. Recent studies have demonstrated that dysregulated microRNAs can contribute to chemoresistance.
To conduct the study, the authors conducted a series of experiments designed to examine resveratrol's activities in ER+/PR+ MCF‐7 breast cancer cells, with a focus on the treatment effects of Adriamycin. The authors also sought to determine the microRNAs associated with resveratrol, their key target proteins, and how these proteins effect cellular activity. It was found that resveratrol caused cell cycle arrest and apoptosis (programmed cell death) in Adriamycin‐resistant breast cancer cells. In other words, resveratrol restored chemosensitivity. This effect of resveratrol was associated with modulation of the critical suppresser, miR‐122‐5p (microRNA 122). The authors demonstrated a major effect of miR‐122‐5p on the regulation of key antiapoptotic proteins and cyclin‐dependent kinases (which can trigger cell growth arrest and cellular senescence) in drug‐resistant breast cancer cells in the presence of resveratrol. The authors conclude that resveratrol enhances the chemosensitivity of breast cancer cells to Adriamycin, apparently through miR‐122‐5p, which is involved in the pathway of cell‐cycle arrest by targeting Bcl‐2 and CDKs.
Selected breast cancer studies