Resveratrol plus melatonin reduces mammary tumor development
Posted: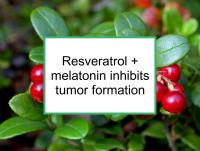 Resveratrol + melatonin inhibits tumors
A new study has reported that
melatonin
and
resveratrol
reduce tumor growth and development in a mouse model of carcinogen-induced breast cancer. Melatonin is known primarily for its involvement in the regulation of
circadian rhythms
(the body clock), however it has also been shown to have antioxidant and anticarcinogenic properties.
Resveratrol, an anti-inflammatory, also has been shown have antioxidant activities and anticarcinogenic properties in breast cancer.
To conduct the study, the authors used female Sprague-Dawley rats, who were exposed to the carcinogen N-methyl-N-nitrosourea (NMU) at age 31 days. NMU reliably induces mammary tumors in such rats. The rats were treated with resveratrol and melatonin starting two weeks before the first dose of NMU and lasting until the end of the experiment.
Control rats were either left unexposed to NMU and untreated with resveratrol and melatonin, or were administered NMU but were not initially given treatment with resveratrol and melatonin. Various factors were measured and recorded for each group of rats, including time until the first tumors appeared, as well as number and size of tumors.
The combination resveratrol and melatonin was found to reduce tumor incidence by approximately 17% compared to untreated control rats. The treatment significantly reduced the quantity of both invasive and noninvasive (in situ) tumors. Food intake declined in the second and seventh weeks after the administration of the carcinogen in untreated rats. Resveratrol in combination with melatonin returned food intake to the level of intact controls.
The authors conclude that resveratrol in combination with melatonin has some protective effects on NMU-induced rodent mammary cancer. Further studies are necessary to confirm the chemopreventive effect of this combination.
Selected breast cancer studies
Melatonin inhibits aromatase promoter expression by regulating cyclooxygenases expression and activity in breast cancer cells

Cite

Martínez-Campa C, González A, Mediavilla MD, Alonso-González C, Alvarez-García V, Sánchez-Barceló EJ,

et al

. Melatonin inhibits aromatase promoter expression by regulating cyclooxygenases expression and activity in breast cancer cells. British Journal of Cancer. Springer Science and Business Media LLC; 2009; 101:1613-1619

10.1038/sj.bjc.6605336

Circulating melatonin and the risk of breast and endometrial cancer in women

Cite

Viswanathan AN, Schernhammer ES. Circulating melatonin and the risk of breast and endometrial cancer in women. Cancer Letters. Elsevier BV; 2009; 281:1-7

10.1016/j.canlet.2008.11.002

Resveratrol inhibits migration and invasion of human breast-cancer cells

Cite

Tang F, Su Y, Chen N, Hsieh H, Chen K. Resveratrol inhibits migration and invasion of human breast-cancer cells. Molecular Nutrition & Food Research. Wiley; 2008; 52:683-691

10.1002/mnfr.200700325