Coffee may reduce risk of recurrence in tamoxifen-treated patients
Posted: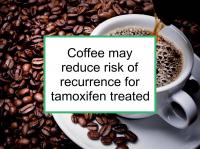 Coffee may reduce risk of recurrence
The effect of coffee consumption on breast cancer risk depends in part on a woman's CYP1A2 and CYP2C8 genes, which play a crucial role in the metabolism of both estrogen and coffee. Different alleles (variants or alternate forms of the genes) can have different effects. Coffee has been found to protect C-allele carriers of the CYP1A2 gene against breast cancer by reducing breast volume. Coffee consumption has also been shown to slow the growth of estrogen receptor positive (ER+) tumors in women with the CYP1A2*1F A/A genotype.
Coffee is not recommended during chemotherapy
Latest research finds coffee can enhance the effectiveness of tamoxifen
The study referenced at the beginning of this news story was designed to investigate whether coffee influences breast tumor characteristics and risk of early recurrence in light of CYP1A2 and CYP2C8 genotypes and type of breast cancer treatment. The CYP1A2 and CYP2C8 enzymes contribute to the metabolism of both tamoxifen and caffeine. The study included 634 Swedish breast cancer patients. Participants were divided into low (up to one cup per day), moderate (two to four cups), and high (at least five cups) coffee consumption groups. CYP1A2*1F and CYP2C8*3 were genotyped. The women were followed for a median of 4.92 years.
The 310 patients with ER+ tumors who were treated with tamoxifen and who consumed at least two cups of coffee per day experienced a 60% reduced risk of recurrence during follow up compared to those with low intake. Low coffee intake combined with at least one CYP1A2*1F C-allele (35 study participants) or CYP2C8*3 (13 study participants) was found to be associated with more than three- and six-fold risks of recurrence in tamoxifen-treated patients compared to other tamoxifen-treated patients.
The authors conclude that moderate to high coffee consumption is associated with significantly decreased risk of early recurrence in tamoxifen-treated patients in this population. Coffee consumption also appears to modify hormone receptor status. The authors comment that new recommendations regarding coffee consumption during tamoxifen treatment may be warranted if the study results are confirmed.
Selected breast cancer studies