High-fat soybean oil diet promotes metastasis in ER+/PR+ mouse model
Posted: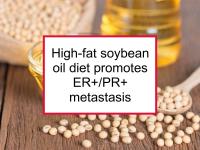 High-fat soybean oil diet promotes ER+/PR+ metastasis
The omega-3 to omega-6 ratio appears to have more influence on breast cancer risk than the absolute level of omega-6 fats in the diet. Nevertheless, evidence is accumulating that high omega-6 vegetable oils could promote breast cancer directly.
High omega-6 oils
High omega-3 oils & foods
Latest research finds high-fat soybean oil diet increases tumor development
In the study. three-week old female mice were fed either a high-fat modified standard diet with 45% of calories supplied by soybean oil or the standard diet (with 16% from soybean oil) for eight weeks. The mice had free access to their food, eating as much as they wanted. Mice on the high-fat diet had a slightly (but statistically significant) higher caloric intake than the control mice and their body fat mass also became somewhat higher.
Selected breast cancer studies