High carotenoid intake linked to reduced BC risk in Chinese women
Posted: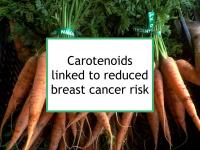 Carotenoids linked to reduced breast cancer risk
Although the evidence is inconsistent, women who have substantial intake of carotenoids in their diets appear to have lower risks of breast cancer and breast cancer recurrence than women with low intake. Population studies have uncovered differences in the chemopreventive activities of carotenoids according to breast cancer type and other factors.
Recommended food sources of carotenoids
Latest research finds most carotenoids are linked to reduced breast cancer risk
The consumption of α-carotene, β-carotene, β-cryptoxanthin and lutein/zeaxanthin was found to be inversely related to breast cancer risk. On the other hand, lycopene intake was not found to be associated with the risk of breast cancer. The protective effect of carotenoids held for all types of hormone receptor status. The risk reduction was higher among premenopausal women and women who were exposed to second-hand smoke. The authors conclude that greater intake of specific carotenoids was associated with a reduced risk of breast cancer among the study population.
Selected breast cancer studies