Gamma-tocotrienol form of vitamin E suppresses BC metastasis
Posted: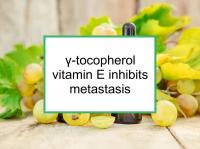 γ-tocopherol vitamin E inhibits metastasis
Vitamin E supplements and breast cancer
Food sources of gamma-tocotrienol
Gamma-tocotrienol and breast cancer
Latest research finds gamma-tocotrienol suppresses metastasis-related activities
The study referenced at the beginning of this news story was designed to investigate the mechanism of action by which gamma-tocotrienol inhibits the epithelial-to-mesenchymal cell transition (EMT) in breast cancer cells, in particular, the impact of gamma-tocotrienol on the canonical Wnt pathway. The Wnt signaling pathway activates the MET that cancer cells undergo in the process of becoming capable of metastasis. An EMT enables an epithelial cell to undergo a variety of changes that enable it to assume a mesenchymal cell phenotype, thereby acquiring enhanced migratory capacity and invasiveness, as well as elevated resistance to apoptosis. Inhibition of Wnt signaling appears to play a central role in the anticancer activity of some micronutrients.
To conduct the study, the authors maintained triple negative (MDA-MB-231), ER+/PR+ (T-47D) and immortalized normal breast epithelial (MCF-10A) cells in media containing various doses of gamma-tocotrienol. Cell viability, protein expression, and cell mobility and migration were measured. In addition, specialized staining was used to locate and visualize cellular EMT markers. Gamma-tocotrienol was found to cause inhibition of MDA-MB-231 and T-47D cell growth in a dose-response manner. The doses used had no effect on normal cells. The inhibition of growth was found to be associated with suppression of canonical Wnt signaling, reversal of EMT, and substantial reductions in breast cancer cell motility (the ability to move, which is required for metastasis). The authors conclude that gamma-tocotrienol suppresses metastatic breast cancer cell proliferation and EMT through suppression of the canonical Wnt signaling pathway.
Selected breast cancer studies