Cabbage compound BITC reduces breast cancer cell division
Posted: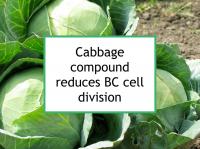 Cabbage compound reduces BC cell division
Food sources of benzyl isothiocyanate (BITC)
Consume cruciferous vegetables as food, not supplements
Unlike some other chemopreventive compounds found in foods, those in cruciferous vegetables are relatively bioavailable and meaningful amounts can be obtained through the diet. The anticancer properties of cruciferous vegetables are likely to be the result of synergistic interaction of its various chemical components.
Consuming sulforaphane, DIM, I3C, papaya seed extract or broccoli pills appears to be both unnecessary to obtain the benefits of cruciferous vegetables, and unwise. Isolated cruciferous vegetable components have successfully inhibited proliferation in the laboratory, but their efficacy and safety in humans needs to be evaluated in large-scale clinical trials.
Latest research describes how BITC induces cell death
Most laymen think of mitochondria as scattered oval-like organelles involved in cell energy production. However, mitochondria can also assemble into dynamic structures. In most types of normal cells, these are regular lattice-like formations but in cancer cells they typically appear as an irregular filamentous network.
The study referenced at the beginning of this news story was designed to investigate the mechanism of action by which BITC helps prevent mammary tumor development. BITC is known to be associated with apoptosis (programmed cell death) but how this occurs is not well understood. In the present study, the authors demonstrate that BITC modifies mitochondrial dynamics and that this is an early and necessary step in BITC-induced breast cancer cell apoptosis.
To conduct the study, the authors exposed ER+/PR+ and triple negative breast cancer cells, as well as non-cancerous breast cells, to BITC at levels reasonably achievable in plasma. This was found to induce a rapid collapse of mitochondrial filamentous networks in the breast cancer cells. BITC treatment also inhibited mitochondrial fusion in these cells, a necessary step during cell division. On the other hand, the normal breast cells were resistant to BITC-induced mitochondrial changes, as well as to apoptosis.
The authors also tested exposure to BITC in tumor-bearing mice. Tumors of BITC-treated mice were found to have reduced levels of mitochondrial fission- and fusion-related proteins compared to tumors of untreated control mice. The authors conclude that their study provides new insights into the molecular complexity of breast cancer cell death induced by BITC.
Selected breast cancer studies