Watercress compound can inhibit metastasis to brain
Posted: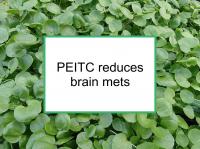 Sources of phenethyl isothiocyanate (PEITC)
Latest research finds PEITC inhibits metastasis to brain
The study referenced at the beginning of this news story was designed to investigate the anti-metastatic effects of PEITC in a new mouse model of breast cancer metastasis. To conduct the study, mice were divided into groups and injected (into the left ventricles of the hearts) with MDA-MB-231-BR (BR-brain seeking ER-/PR-) breast cancer cells. The migration of the cells to the brain was monitored using a non-invasive technique. The authors performed experiments with different groups of mice in order to study the influence of PEITC on tumor growth and metastasis.
Selected breast cancer studies