Quercetin and fisetin inhibit TN cell migration
Posted: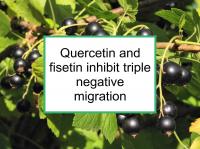 Quercetin and fisetin inhibit triple negative migration
Impact of quercetin on breast cancer
Impact of fisetin on breast cancer
Latest research finds quercetin and fisetin can inhibit migration of TN cells
The study referenced above was designed to investigate the effects of fisetin and quercetin on triple negative breast cancer cell migration, invasion, and metastasis. Multiple successful treatments have been developed to eliminate cancer cells and shrink tumors. However, it is typical for treatment-induced adaptations to enable subsets of cancer cells to survive such cytotoxic treatment. As a result, more targeted treatments are needed to prevent metastasis, a multi-step process which includes cancer cell migration and invasion.
The authors used nine triple negative breast cancer cell lines to evaluate the effects of fisetin and quercetin. Both flavonols were found to be highly effective against migration of all nine cell lines, with up to 76% inhibition for fisetin and 74% for quercetin. In addition, the treatments reduced 3D invasion of highly motile triple negative breast cancer cells from spheroids into a collagen matrix and reduced their metastasis in an animal model of breast cancer. Fisetin and quercetin were found to target different parts of the oncogenic PI3K/AKT signaling pathway. Both flavonols also disrupted activities of several protein kinases in MAPK and STAT pathways. The authors used molecular inhibitors specific to these signaling proteins to prove that the flavonols inhibited migration of triple negative breast cancer cells. The authors conclude that fisetin and quercetin inhibit migration of metastatic triple negative breast cancer cells by interfering with activities of protein kinases in multiple oncogenic pathways.
Selected breast cancer studies