Weight loss surgery linked to improved outcomes in early stage BC
Posted: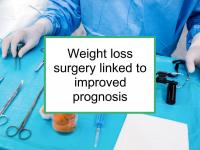 Weight loss surgery linked to improved prognosis
Women with early stage breast cancer (cancer that has not spread beyond the breast or axillary lymph nodes) who gain weight after diagnosis have a less favorable prognosis than those who do not. This includes weight gain during treatment and after treatment has been completed. Losing weight through diet and exercise can improve a woman's hormonal profile.
Impact of conventional weight loss on breast cancer progression
For example, two studies using mouse models of breast cancer have investigated whether losing weight could improve survival of initially obese breast cancer patients. The outcomes of obese mice and formerly obese mice who were implanted with tumor cells were compared to that of mice who had never been obese. Mammary tumor growth in the formerly obese mice was found to be significantly higher than in mice who had always been lean. This was despite the fact that the formerly obese mice had lost all of their excess weight before being implanted.
Latest research reports weight loss surgery linked to lower recurrence rates
The study included 108 bariatric surgery cases who had not experienced breast cancer relapse for at least one year before their surgeries. The relative risk of relapse among patients who had bariatric surgery was found to be 45% lower than the control group of obese breast cancer survivors who did not have the surgery. The authors conclude that bariatric surgery is associated with reduced risk of breast cancer relapse among obese breast cancer survivors compared to similar women who do not undergo bariatric surgery. This suggests that a randomized control trial of bariatric surgery compared to best medical management should be undertaken, according to the authors.
Selected breast cancer studies