Protecting daughters from breast cancer — Teen years & young adulthood
Last updated: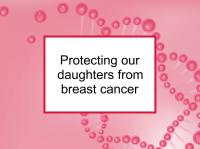 Protecting our daughters from breast cancer
Exercise
Diet
There is ample evidence that diet can influence risk of breast cancer in women. The following foods have been identified specifically as reducing subsequent risk of breast cancer when consumed during the teenage years:
The following foods have been identified specifically as increasing subsequent risk of breast cancer when consumed during the teenage years:
One 2016 study reported that relatively high consumption of saturated fat and low consumption of monounsaturated and polyunsaturated fats during the teenage years was associated with higher breast density (a breast cancer risk factor) in adulthood.
Weight
Anorexia nervosa
A study of Dutch World War II famine survivors found that they had higher subsequent risk of breast cancer. While starvation reduced growth, and resulted in later first period and earlier menopause (all of which would be expected to reduce the risk of breast cancer), levels of various estrogens and growth factors appeared to rebound after the famine ended, overshooting normal levels and resulting in a net increase in the risk of breast cancer. Exposure to famine between the ages of two and 10 was found to be an especially vulnerable period for the breast cancer promoting effects of calorie deprivation.
On the other hand, studies of the relationship between anorexia and/or bulimia nervosa and breast cancer risk have reported that anorexia or bulimia that occurs during the years up to age 25 actually is associated with reduced risk of breast cancer. The various findings on weight suggest that different weights are optimal during different periods of breast development. We suggest attempting to keeping girls and teenagers at normal weight, if possible. Most breast cancer occurs after menopause, when being overweight increases risk and when it becomes increasingly difficult to lose weight.
Breast self-exams
Teenagers should be taught how to perform breast self-exams and encouraged to perform them on a monthly basis. While rare, some aggressive breast cancers can occur during the teenage years and 20s.
Personal care products
Exposure to radiation
High risk women might also considering avoiding career choices such as airline pilot or cabin attendant that involve significant long-term exposure to radiation.
Harmful plastics
Some plastics contain estrogenic and otherwise carcinogenic chemicals that can leach into food when the plastics are heated, microwaved, put under pressure or simply scuffed and worn. These chemicals include bisphenol A, styrene, and phthalates. Plastics that may leach these substances include (1) polyvinyl chloride (PVC), which may be found in cling wrap, some plastic squeeze bottles, and cooking oil bottles; (2) polystyrene, which may be found in styrofoam food containers and disposable cups and bowls; and (3) polycarbonates, which may be found in plastic baby bottles, water bottles, and clear plastic sippy cups. Teenagers and adults alike should avoid all but temporary, low temperature uses of these products. Plastic containers may be marked with a number in a triangle-like icon. Plastics marked 1, 2, 4 or 5 use less toxic additives in their manufacture. Products that use polyvinyl chloride should be marked with 3, polystyrene with a 6, and polycarbonate with a 7 - these are the ones to avoid.
Exposure to agricultural and industrial carcinogens
Occupational exposure to organic solvents prior to first birth has been linked to increased risk of breast cancer.
High risk teenage girls and young women would be better off not taking summer jobs or otherwise working in or near auto repair shops, gas stations, chemical plants, automotive plastics manufacturing plants, textile manufacturing plants, electrical manufacturing plants, food canning operations, dry cleaners, printers, recycling or waste disposal facilities, and military bases.
Exposure to light at night
Acne treatments
Herbal supplements designed to regulate menstruation
Birth control
Exposure to oncogenic viruses
In any case, it makes sense to reduce or avoid exposure to these viruses. Children should be vaccinated against measles as young toddlers and HPV as older children. Girls and young women should not be served raw milk and uncooked beef, both of which are possible sources of BLV infection, as noted above. Although it is possible that MMTV is more often transmitted between humans rather than being passed directly from mice, it makes sense to avoid exposure to mice, including pet mice and lab mice.
Weight loss and fitness products
Breast implants and breast enlargement products
Smoking
Alcohol consumption
Childbearing and nursing
Several studies have reported that close spacing of births (under three years) and failures in breastfeeding (presumably because of defective breast maturation) heighten the temporary increase in breast cancer risk associated with being pregnant and having children. However, a Finnish study found that, for women who first gave birth under age 30, having another baby within 18 months reduced the eventual risk of breast cancer after age 50 (but increased this risk in women who first gave birth after age 30).
One meta-analysis of previous studies reported that ever breastfeeding preferentially reduces the risk of triple negative breast cancer among women who have given birth, but does not appear to affect the risk of other types of breast cancer.
Greater number of pregnancies and younger age at first live birth have been found to be associated with lower risk of breast cancer in young women with benign breast disease. Benign breast disease is significantly less likely to progress to breast cancer in women who have children before age 25 and who have several children.
Selected breast cancer studies