HPV and breast cancer
Last updated: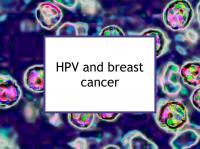 Importantly, no epidemiological studies have found that women with cervical cancer are more likely to get breast cancer. Are HPVs mere passengers in breast cancer cells or do they have a causal role?
The case against an HPV—breast cancer connection
However, one Danish study found a slightly elevated risk of breast cancer for women who underwent cervical conization (excision of a cone-shaped sample of tissue from the mucous membrane of the cervix) and presumably had HPV infections. Other studies have also reported a higher prevalence of HPV infection among breast cancer cases than women without breast cancer.
Possible mechanisms of action
Gardasil protects against infection by HPV found in breast cancer
Gardasil, a vaccine which protects against infection by HPV types 16 and 18, was approved by the U.S. Food and Drug Administration (FDA) in 2006. HPV types 16 and 18 are believed to cause approximately 70 percent of all cases of cervical cancer (at least 17 other types of HPV are responsible for the remaining cases). Gardasil also protects against HPV types 6 and 11, which cause genital warts but do not cause cervical cancer.
Bottom line
Based on the available evidence, there appears to be some potential for common strains of HPV to contribute to breast cancer development and recurrence in a limited number of cases. The level of risk associated with HPV infection has not been determined. It appears to be higher for young women, however it is not clear why this risk should dissipate over time if HPV infection persists. Given the well-established association of HPV with cervical and some forms of head and neck and anogenital cancer, it is in any case important to have our teenagers vaccinated against HPV and to take steps to avoid HPV infection.
Selected breast cancer studies