Women with BC more likely to have bovine leukemia virus in breasts
Posted: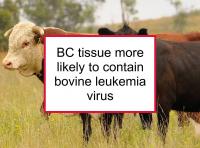 BC tissue more likely to contain bovine leukemia virus
Bovine leukemia virus (BLV)
BLV is transmitted in cattle through the transfer of infected cells, especially in blood or milk. Cattle management procedures such as dehorning, ear tattooing, and reuse of infected needles are some common modes of transmission. Transfer of infected blood also appears to occur in regions with a high density of insects that feed on blood. In addition, prolonged direct contact between infected and healthy animals appears to be a risk factor for BLV transmission. BLV is transmitted to calves both in the womb and after birth (via colostrum and milk), although maternal antibodies present in the colostrum offer some protection to calves.
However, it makes sense to use the same precautions in handling raw beef that are currently recommended for raw chicken. Tasting raw ground beef mixtures during cooking preparation or consuming beef "rare" or as steak tartare could introduce risk of BLV infection. The authors of one study also raised the possibility that human-to-human transmission of BLV may be occurring.
Latest research reports BLV more likely in breast cancer patients
The study referenced above was designed to investigate whether BLV and HPV are associated with breast cancer, separately or in combination. To conduct the study, the authors tested for the presence of both BLV and HPV (i.e., targeted DNA segments of BLV and HPV) in 216 archival breast tissue specimens obtained from The University of Texas MD Anderson Cancer Center.
Breast cancer patients were found to be significantly more likely to have BLV DNA in their breast tissue than women with benign diagnoses and no breast cancer history. Women with premalignant breast pathology and no breast cancer history also were more likely to harbor BLV DNA. On the other hand, HPV status was not found to be associated with invasive breast cancer or premalignant breast disease. Nor did the authors find a significant association between the presence of HPV and the presence of BLV in the breast tissue samples.
The authors conclude that the current study results support previous findings of a significant association between BLV DNA in breast tissue and breast cancer. However, the study did not find oncogenic strains of HPV associated with breast cancer. The authors comment that the current study contributes to overall knowledge regarding a possible causal role for viruses in human breast cancer.
Selected breast cancer studies