Exposure to bovine leukemia virus found in cattle linked to BC
Posted: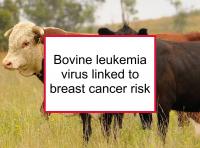 Bovine leukemia virus linked to breast cancer risk
Latest research finds BLV in breast tissue associated with breast cancer
The authors previously detected BLV in human breast epithelial cells (the type of cell in which breast cancer typically develops). To conduct the present study, the authors used archival breast tissue from 239 donors. Medical records and examination of tissues by an anatomical pathologist were used to categorize the tissue as coming from women with breast cancer, having precancerous changes, or normal. Exposure to BLV was determined by in situ-PCR detection of a biomarker, BLV DNA, in the breast tissue.
Breast tissue from women with breast cancer was twice as likely to contain BLV DNA as normal tissue (59% compared to 29%). In addition, in women with precancerous breast changes, the rate of BLV (38%) was inbetween that of normal women and women with invasive breast cancer. The authors calculated that women with BLV in their breast epithelial tissue were three times as likely to have breast cancer as women without BLV. BLV was found more often in estrogen receptor positive (ER+) (68%) than in ER- (50%) samples and more often in progesterone receptor positive (PR+) (74%) than in PR- (51%) samples.
Selected breast cancer studies