Prenatal estrogen or high fat diet exposure increases BC risk in pups
Posted: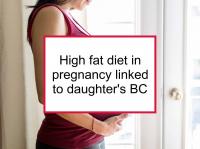 High fat diet in pregnancy linked to daughter's BC
Prenatal exposures associated with increased breast cancer risk
Body weight during pregnancy and daughters' breast cancer risk
Latest research finds environmental estrogen or omega-6 diet increases risk
Mammary tumor development was found to be higher in the daughters and granddaughters of rats in the high omega-6 diet group, as well as in the daughters and great-granddaughters of the EE2-supplemented group. Additional experiments showed that the increase in mammary cancer risk conferred by the high omega-6 diet might be transmitted to granddaughters equally through the female or male ancestors. However, the increase conferred by EE2 was only transmitted to granddaughters through females.
The authors conclude that dietary and estrogenic exposures in pregnancy influence mammary cancer risk in multiple generations of offspring, possibly through epigenetic means.
Selected breast cancer studies