MRIs find additional disease in 20% of lobular BC patients
Posted: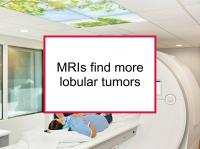 MRIs find more lobular tumors
The study included 69 women with lobular breast cancer diagnosed before and after January 2009. Medical records were reviewed and compared with regard to type of surgery, positive margins and changes in patient management as a result of MRIs. The number of additional targeted breast ultrasound scans and biopsies was also documented. A total of 22 of the women had preoperative MRI scans.
However, one case of additional multifocal disease was invisible on all imaging, reflecting lobular breast cancer's reputation for being more difficult to detect than other forms of breast cancer.
Selected breast cancer studies
Impact of initial surgical margins and residual cancer upon re-excision on outcome of patients with localized breast cancer

Cite

Kouzminova NB, Aggarwal S, Aggarwal A, Allo MD, Lin AY. Impact of initial surgical margins and residual cancer upon re-excision on outcome of patients with localized breast cancer. The American Journal of Surgery. Elsevier BV; 2009; 198:771-780

10.1016/j.amjsurg.2009.05.027

Conservative surgery in patients with multifocal/multicentric breast cancer

Cite

Gentilini O, Botteri E, Rotmensz N, Da Lima L, Caliskan M, Garcia-Etienne CA,

et al

. Conservative surgery in patients with multifocal/multicentric breast cancer. Breast Cancer Research and Treatment. Springer Science and Business Media LLC; 2008; 113:577-583

10.1007/s10549-008-9959-7