KI-67 linked to survival in women with luminal breast cancer
Posted: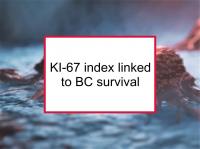 KI-67 index linked to BC survival
Ki-67 is a marker of breast cancer cell proliferation
Ki-67 is an antigen, a compound that causes the immune system to produce antibodies against it. Ki-67 is a protein found only in growing, dividing cells and not in cells in the resting phase of the cell cycle. Although it is apparent that Ki-67 has an important role in cell division, its exact function is not well understood. Nevertheless, it appears to be a useful measure of proliferation. High Ki-67 is defined variously by different researchers. Generally speaking, Ki-67 levels over 14% to 25% are considered high (depending on breast cancer type and biopsy type) whereas levels over 40% are considered very high.
Luminal breast cancer
Latest research finds Ki-67 predicts luminal BC prognosis
Ki-67 was found to be a continuous variable associated with both unfavorable overall survival and unfavorable breast cancer-specific survival. In other words, generally speaking, the higher the Ki-67 percentage, the worse the outcome. The authors determined that breast cancer-specific survival was poor when Ki-67 exceeded 14%. On the other hand, relapse-free survival was not found to be associated with Ki-67 during the study period. The authors conclude that the prognosis of luminal breast cancer can be predicted using Ki-67 and that a standard cut-off value of 14% for fine needle biopsies makes sense. The authors note that information about the specimen type used to determine Ki-67 should be recorded in the pathological report.
Selected breast cancer studies