High-fat milk fat diet promotes metastasis more than olive oil diet
Posted: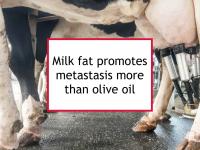 High milk fat diet promotes metastasis in mice
Latest research finds high-fat olive oil diet less harmful
The study referenced above was designed to investigate whether high-fat diets differ with respect to breast cancer development and metastasis depending on the whether the fat is derived from milk or olive oil. To conduct the study, the authors used MMTV-PyVT mice, who develop mammary tumors and metastases spontaneously.
The authors found that the high-fat diets neither increased nor inhibited the development of mammary tumors compared to the control diet. At 16 weeks, the mammary tumor weight and volume was equivalent in all three groups of mice. In other words, primary tumors developed as expected in the MMTV-PyVT mice regardless of diet.
However, the lung metastases that developed differed. Mice in the olive oil group were found to have a lower number of lung metastases (assessed by the number of surface nodules) with a decreased area compared to the milk fat group. The authors conclude that different types of fats predominating in high-fat diets might have varying influences on breast cancer metastasis.
Selected breast cancer studies