High animal fat diet before puberty accelerates tumor development
Posted: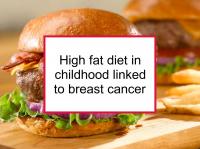 High fat diet in childhood linked to breast cancer
Dietary and lifestyle factors influence breast cancer risk at each stage of life. This gives us an opportunity to reduce the risk of our daughters. Breast tissue is particularly vulnerable to carcinogens during the prepubertal period since it represents the onset of a time of rapid proliferation and differentiation of breast cells.
Furthermore, switching to a low-fat diet during adulthood does not reverse the tumor promotion caused by the high fat diet in the peripubertal period.
Milk is the exception
Latest research finds high animal fat diet accelerates tumorigenesis
The study referenced at the beginning of this news story was designed to investigate the influence of a high animal fat diet during the peripubertal period on mammary tumor development in an animal model of breast cancer. To conduct the study, the authors used obesity-resistant BALB/c mice. The authors previously demonstrated that exposure to a high saturated animal fat diet from peripuberty through adulthood promoted mammary tumor development in this type of mouse.
In the present study, groups of mice were fed either a low-fat diet or high fat diet and were subjected to a carcinogen which reliably induces mammary tumors. At nine weeks of age, half the mice on the low-fat diet were switched to the high fat diet (LFD-HFD diet group). In addition, half the mice on the high fat diet were switched to the low-fat diet (HFD-LFD group). The authors assessed tumor gene expression in association with diet and tumor latency (time to tumor appearance).
Selected breast cancer studies