Blueberry compound pterostilbene inhibits mutant p53 breast cancer
Posted: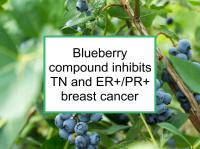 Blueberry compound inhibits TN and ER+/PR+ breast cance
Pterostilbene and breast cancer
p53 and breast cancer
p53 is a protein encoded by the tumor suppressor gene, p53. Normally, activation of the p53 gene results either in cell death or DNA repair, thereby preventing the progression of cells with incorrect numbers of chromosomes toward cancer. However, as noted above, the p53 gene often is mutated in cancer. Such mutations don't just disrupt the normal functioning of p53, they often also endow p53 with new functions that promote, instead of inhibit, cancer formation, proliferation and invasion. In that case, overexpression of the mutant p53 protein can enhance cancer development and decreased expression could inhibit it.
Latest research finds pterostilbene inhibits mutant p53
The study referenced above was designed to investigate the impact of pterostilbene on breast cancer cell lines with mutant p53. To conduct the study, the authors used MDA-MB-231 triple negative and T-47D hormone receptor positive (ER+/PR+/HER2-) breast cancer cells with mutant p53. Treatment with various concentrations of pterostilbene was found to significantly reduce the viability and proliferative activity of both cell types. In addition, the morphological characteristics (shape and structure) of both cell types were modified by pterostilbene treatment.
These cellular changes were accompanied by reduced expression of mutant p53 in both breast cancer cell lines. Other favorable changes in oncogene (cyclin D1, mTOR, and β-catenin) expression in both cell lines were also observed under various pterostilbene concentrations. The authors conclude that downregulation of protein expression of mutant p53 and other oncogenes was increased after triple negative and T-47D cell lines with mutant p53 were treated with pterostilbene. These results raise the possibility that pterostilbene might have promise as a natural therapeutic agent against the development and the progression of breast cancer, according to the authors.
Selected breast cancer studies