Use of metformin linked to lower recurrence among older BC survivors
Posted: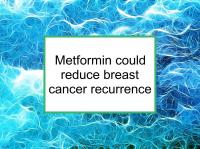 Metformin could reduce breast cancer recurrence
Latest research finds metformin reduces recurrence and death
The study referenced above was designed to investigate the influence of diabetes treatment on breast cancer relapse and survival. To conduct the study, the authors used data from the Surveillance, Epidemiology and End-Results (SEER)-Medicare database. The study included 14,766 women aged 66 to 80 newly diagnosed with stage I or II breast cancer during the period 2007 to 2011, of whom 627 experienced a recurrence and 237 died from breast cancer during the study period. Medicare Part D claims data was used to obtain information concerning diabetes-related medications. Metformin was used by 2,558 of the study population.
Treatment with metformin was found to be associated with 31% lower risk of recurrence and 49% lower risk of breast cancer-specific death. On the other hand, use of sulfonylureas was associated with 1.49 times higher risk of breast cancer-specific death and use of insulin was associated with 2.58-fold higher risk of death from breast cancer.
The authors comment that further research may be justified to determine whether metformin (1) is a preferred treatment for diabetes among breast cancer survivors; and (2) is beneficial for breast cancer patients without diabetes.
Selected breast cancer studies