Vitamin D level at diagnosis linked to breast cancer prognosis
Posted: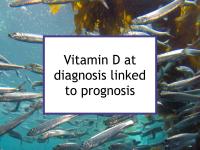 Vitamin D at diagnosis linked to prognosis
Vitamin D deficiency has been linked to increased risk of breast cancer and its recurrence in a variety of studies. While adequate vitamin D levels appear to improve long-term survival, the evidence for this is not as strong. Now a major new California study has reported that women with adequate levels of vitamin D at diagnosis have significantly better survival outcomes than those with low levels.
Vitamin D inhibits breast cancer
Vitamin D is vital for normal bone development since it regulates the flow of calcium into the bloodstream. Vitamin D also has important roles in parathyroid, neuromuscular, insulin and immune functions. In addition, vitamin D has wide-ranging effects that affect breast cancer development and progression.
Sources of vitamin D
In addition to exposing the skin to sunlight, the following foods and supplements are significant sources of vitamin D while also having been found to protect against breast cancer:
Latest research links vitamin D to prognosis
The large prospective study referenced above was designed to investigate the relationship between circulating vitamin D and breast cancer prognosis. The study included 3,995 women with breast cancer enrolled in the Pathways Study, which was established at Kaiser Permanente Northern California in 2006. The women were followed for a median of 9.6 years.
The authors conclude that sufficient vitamin D levels at diagnosis were associated with improved breast cancer prognosis in this large prospective study. The study provides the strongest evidence yet for maintaining sufficient vitamin D levels in breast cancer patients, according to the authors, including among African-American women and those with more advanced disease.
Selected breast cancer studies