Vitamin D and calcium intakes influence risk of breast cancer
Posted: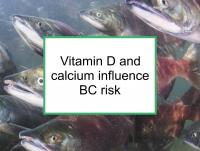 Vitamin D and calcium influence BC risk
However, when the analysis was performed according to the menopausal status of the study participants, the reduced risk conferred by vitamin D was found only among premenopausal women and the reduced risk association with calcium intake was found only among postmenopausal women.
Study results might not apply to U.S. women
While the study results are similar to some U.S. and European findings, they should be viewed with caution since the Japanese diet is very dissimilar to the typical Western diet. For example, U.S. women typically derive much more of their calcium from dairy products and less of it from vegetables than Japanese women. In addition, Japanese women normally derive more vitamin D from their diets due to their high fish consumption, whereas U.S. women are often deficient in vitamin D.
Increasing Vitamin D also associated with lower risk in Western populations
Selected breast cancer studies