Salad and wine dietary pattern increases breast cancer risk
Posted: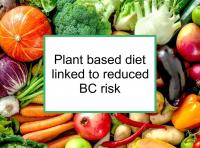 Plant based diet linked to reduced BC risk
Latest research finds plant-based diet reduces breast cancer risk
The study referenced at the beginning of this news story was designed to evaluate common dietary patterns in California women in relation to the risk of breast cancer. To conduct the study, the authors analyzed data from 91,779 female participants in the California Teachers Study cohort. A total of 4,140 of the women were diagnosed with invasive breast cancer during follow up between 1995 and 2009.
The authors conclude that a plant-based dietary pattern is associated with a reduced breast cancer risk, especially hormone receptor positive tumors, offering a potential avenue for prevention.
Selected breast cancer studies