Moderate alcohol consumption linked to TN BC in African Americans
Posted: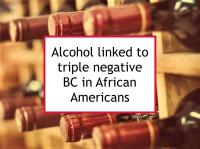 Alcohol linked to triple negative BC in African Americans
Latest research links alcohol to triple negative disease among African Americans
The study referenced at the beginning of this news story was designed to investigate the association between number of alcoholic drinks consumed per week and risk of breast cancer among African American women. The study included 22,338 women in the African American Breast Cancer Epidemiology and Risk (AMBER) Consortium, including 5,108 women with invasive breast cancer. Approximately 35% of the cancer-free controls were current drinkers at the time of interview.
Selected breast cancer studies